Unfortunately, by the time I was finished with the other two dresses, I had about a week and a half until Comicon and I was working six days a week, soo.... there are significantly fewer progress photos.
My design drew on medieval/Germanic/Austrian influences, and was heavily inspired by the lovely Claire Hummel's historical Snow White.
SO PRETTY.
You should really check her stuff out
HERE
. It's
phenomenal.
My Design
I tried pretty hard to maintain the original shape and silhouette of the movie dress. My first real challenge was coming up with a color palette that looked right but didn't look like this:
UGH.
I felt strongly that the yellow of the skirt was often exaggerated in costumes, and there was no way in hell I was going to wear fire engine red.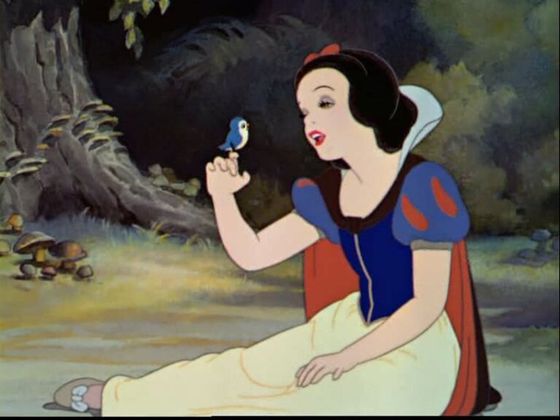 Just try and find that yellow. Just try.
My first stroke of luck was a necklace and pair of earrings I found at my local Value Village:
Just what I needed for a cream and red color scheme!
I splurged on the bodice fabric, buying more of my favorite upholstery fabric pattern (previously seen in my Ty Lee cosplay) in dark blue this time.
Look! It's got yellow AND red in it!
Luckily, I had some fantastic scores at thrift shops, snatching up a cream tablecloth with a sweet lattice pattern and a table runner in a deep red with cream and gold embroidery. YUS. Sleeves, and skirt -- check!
I whipped up the bodice in a day or so...
Lace, ribbons, and gold trim for the win!
...and made a basic circle skirt out of my table cloth. It's a good thing I'm short, or it never would have worked.
As it was, I still had to inset my contrasting fabric in order to make it long enough. The petticoat I made from the skirt of a $4 thrift wedding dress.
(The batting in the table runner made the sleeves REALLY poofy, just the way I wanted).
While the other girls got to use their natural hair, I'm a ginger, so it was a wig for me.
Needs darker eyebrows!
Because I was on a time crunch, I wasn't able to put as much detail into my dress. But... I kept adding more trim as the days of Comicon went by. I bought a brooch from a vendor and added red beaded trim, which in my head was a reference to the three drops of blood, but hey, I'm old fashioned with my fairy tales. :D
By the end, it looked like this:
As a finishing touch, I bought us all matching shoes.